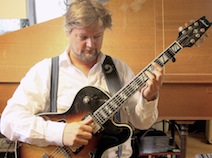 Gitarist cocktail / lounge / jazzy
Fijne rustige sfeermuziek op gitaar (geen zang) met o.a. evergreens uit jazz en pop, latin; stijlvol, mellow en '
easy listening' voor een relaxte mood. Breed repertoire met instrumentaal op de semi-akoestische jazzgitaar vertolkte klassiekers van o.a. Aznavour, Sting, Sinatra, Beatles, John Denver, Elvis, rustige melodieuze
jazz, dromerige ballads, bossa nova.
Warme sfeer met authentieke uitstraling op jazzgitaar of akoestische gitaar (zie ook
gitarist akoestisch
), 'finger style' (tokkelen) met mooie luisternummers.
U kunt deze jazz gitarist boeken als live mellow lounge muziek, cocktail gitarist. Bekijk ook eens het
duo met slagwerk
(met rustige percussie met kwastjes, eventueel ook uit te breiden tot
trio
met echte staande contrabas). Zie verder ook
gitarist + tracks
voor meer in de smaken lounge, pop, elektrische gitaar.

I
nstrumentale versies (geen zang) van o.a. The girl from Ipanema, Georgia on my mind, To make you feel my love, Killing me softly with his song, Love me tender, Imagine, What a Wonderful world, That's what friends are for, She (Aznavour), Whiter shade of pale, Out of nowhere, Every breath you take, Somewhere over the rainbow, With a little help from my friends, Misty, Guantanamera, Michelle ma belle, Don't know much about history, All the things you are, Black Orpheus (Manha de Carnaval), Nuages, Cry me a river, Here's that rainy day, Torna a Surriento,Yesterday, Autumn leaves, Beautiful dreamer, Perhaps love, I just called to say I love you, Fly me to the moon, Let it be, Summertime, O sole mio, The shadow of your smile, Body and soul, Sloop John B, The water is wide, Nature boy, Embraceable you, Smile, My way, Santa Lucia, I know Him so well, Everything I do, I do it for you, We'll meet again, Streets of London, Het dorp (langs het tuinpad van mijn vader), I don't know how to love him, Butterfly kisses, The town I loved so well, Carrickfergus, The fields of Athenry
€300 voor 2 uur
,
€375,- voor 3 uur |
reiskosten n.t.b.
vrijblijvend
optie plaatsen of informatie aanvragen
of stuur een email:
info@boekeenmuzikant.nl
of bel 06-29555822 | 0344-606077
Beluister geluidsvoorbeelden ingespeeld door deze gitarist: